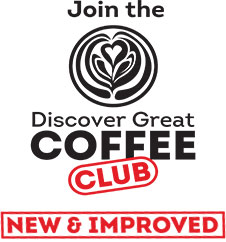 NEW Delivery System!
Get your coffees within 3 days of ordering
(Excludes weekends and public holidays)
The Coffee Magazine's Discover Great Coffee Club, is proud to partner with The Online Beverage Store. All of the coffee featured here will be available through Discover Great Coffee (as a box) or from The Online Beverage Store (as individual units) Usual Discover Great Coffee Club annual subscriptions and once off boxes ordered will now take 3 days from order date of order. All Discover Great Coffee Club boxes will come with a free Coffee Magazine and every now and again a few goodies, on us! Online Beverage Store will be running really great specials too for the next 3 months with these coffees, so go to
www.discovergreatcoffee.co.za
to order a box and keep checking
www.onlinebeveragestore.co.za
often to order the individual coffees and take advantage of great coffee shopping specials!

You have until 11 September 2018 to order Drop 22
Days left to order:
21
Blue Bean Roastery
Blue Bean is a small new roastery with a goal of bringing the tastes of Africa to those with a passion for coffee. This blend is a mix of beans from Kenya and Burundi which when combined gives the coffee a rich flavor consisting of both earthy undertones and a fruity taste lending way to a full-bodied cup of coffee.
Cabin Coffee
Cabin Coffee Roasters situated in Centurion pride themselves in creating an excellent coffee that you can drink the whole day, regardless of how you brew your coffee. Gold Creek is a beautiful medium roasted coffee that has a hint of acidity and bold flavors, with sweet, citrus, floral and chocolate notes. This blend is to be brewed manually and enjoyed around a campfire or just when you feel like a cup to relax.
Caloroso Coffee
The Winter Blend from Caloroso Coffee is a rich, full bodied brew, with the typically sophisticated smooth characteristics of Colombia combined with the Mandheling beans from Indonesia and a warm citrus acidity, deep stone fruit flavours of plum and cherry from Rwanda. This striking blend is perfect for cool winter days and is perfect as espresso or pourover/filter.
Faba Coffee
This is a medium to full body cup with medium acidity and a slight crisp with bright floral, citrus with a note of peach, lemon and orange. Sweet and smooth with a clean finish. The Mzuzu cooperative emphasizes on gender equity and supports community improvement project with 25% of the farmers being women.
Sergeant Coffee
Sergeant Coffee's signature Blend is a delicious Guatemala, Colombia and Tanzania. Roasted medium, this coffee is well rounded, balanced with bright pleasant hints of lime notes and a spicy twist to the lingering smooth finish.
Weskus Coffee Roastery
Owned and run by Greg and Bronwyn Erskine, this coffee is ethically sourced and hand roasted with pride. Weskus specializes in single origin, African, 100% Arabica beans. The Rwanda Inzovu is one of their favorites; it has a full body, with bright acidity, bold notes of ripe apricots and green apples along with a subtle black cherry and dark chocolate finish.