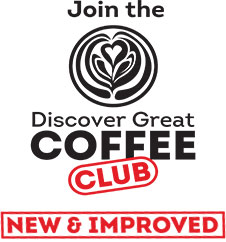 NEW Delivery System!
Get your coffees within 3 days of ordering
(Excludes weekends and public holidays)
Pre-order for delivery from 5th December

You have until 11 March 2019 to order Drop 24
Days left to order:
18
BRU COFFEE ROSTERS
Bru Coffee Roasters Christmas Blend is crafted from 5 single origins, 2 African and 3 American coffees. The different cultivars are individually roasted to ensure each origin's maximum flavour is extracted, then expertly blended with a result that will satisfy every coffee connoisseur. This festive season, wow your guests with a full bodied espresso or a delicious filter coffee.
LINGO COFFEE
This Mamparra coffee is made from a selective combination of beans from three different origins, Indonesia, Brazil, and El Salvador. According to Donovan from the quirky Lingo Coffee : this is the ultimate premium-grade, dark roast, and full-bodied coffee, producing an array of flavours that roll onto the tongue with a slightly fruity base and then end on lovely notes of chocolate that linger in the aftertaste.
MASTERTONS
Introducing the Mastertons Coffee and Tea Specialists Christmas Blend. Sourcing 100% Arabica beans from Africa and South & Central America. Our limited-edition medium roast blend exhibits a citrus and nutty aroma, full bodied chocolatey and a smooth crema with a bold taste. Perfect for filter.
COLOMBO COFFEE
Durban and summer go hand in hand. Hot sun and a warm ocean – two ingredients for an unforgettable summer holiday. "Any holiday needs great coffee. This is why we created the 031 Summer Blend by Colombo Coffee. If summer had a taste, this would be it" says Chad Whitby from Colombo. Crisp like the skin of a green apple, sweeter than a picked ripe cherry. Fruity floral aromas permeating the air.
TERBODORE
Exclusively available from Terbodore Coffee Roasters, the Festive Blend has been an end-of-year feature of theirs for a few years now. This dark roast is a special blend of beans sourced by Terbodore from around the world, including Brazil, Ethiopia and Indonesia. This limited edition exhibits notes of sweet red berries, a silky body and rich cocoa in the finish. Available online and from both Terbodore roasteries.
SKYLINE
Its time to get jolly with our Gold Mountain Colombia Finca El Camilo. Whether you're a coffee connoisseur, café dweller, home-brewer or biscuit dunker, our select holiday coffee has notes of gingerbread, milk chocolate & rum & raisins to get you in the Christmas spirit. Happy Holidays.