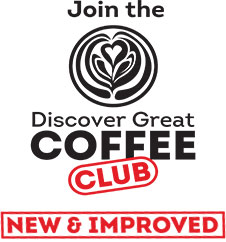 NEW Delivery System!
Get your coffees within 3 days of ordering
(Excludes weekends and public holidays)
The Coffee Magazine's Discover Great Coffee Club, is proud to partner with The Online Beverage Store. All of the coffee featured here will be available through Discover Great Coffee (as a box) or from The Online Beverage Store (as individual units) Usual Discover Great Coffee Club annual subscriptions and once off boxes ordered will now take 3 days from order date of order. All Discover Great Coffee Club boxes will come with a free Coffee Magazine and every now and again a few goodies, on us! Online Beverage Store will be running really great specials too for the next 3 months with these coffees, so go to
www.discovergreatcoffee.co.za
to order a box and keep checking
www.onlinebeveragestore.co.za
often to order the individual coffees and take advantage of great coffee shopping specials!

You have until 11 June 2018 to order Drop 21
Days left to order:
87
Citizen - Cape Town
Citizen is a roastery established by two brothers who appreciate single origin coffee. They aim to source and roast high quality, responsibly sourced, single origin coffees from all over the world, to display their full taste potential in the cup. This Rwanda – Nyamagabe, Situated in the Kamiro region of Rwanda, the Motherland Farmers Washing Station supports 1000 local famers with fertilizer and training in profitable coffee production. Being well rounded, easy drinking, this coffee goes down a treat in the espresso machine, bringing out notes of caramel, apple and blackberry.
Ground Coffee House - Hilton
Craig Smith from Ground Coffee House in Hilton has built up a loyal and deciated following in his community of Hilton. This coffee, a Long Mile's project is an exciting collaboration between the Gitwe community and Heza washing station. This coffee is grown at 2210 masl and is double-fermented fully washed. A City Roast, in partnership with Manna Roastery, makes this coffee perfectly suited for manual brew. It is complex, cups at 87.5 and is vibrant with rich notes of cherry.
Colombo - Durban North
Trump Seasonal Blend. This Burundi Mikuba/Huila Supremo blend is a tongue-in-cheek nod (shake of the comb-over ) to the US President. Quirky packaging and political satire adorn everything about this coffee. We always look forward to Colombo doing something interesting at this time of the year and besides the clever marketing around it, this coffee tastes pretty great. It is bright with upfront acidity and a full body. Notes of dark chocolate, toffee apple and brown sugar sweetnes with a lingering, creamy mouthfeel in the aftertaste. Reccommended for espresso machine, moka pot or plunger.
Jabu Coffee - Mpumalanga
Jabu Coffee is a unique, 100% South African Medium Roast Arabica. It is grown from seed on the farm Sifikile at Kiepersol near Hazyview in Mpumalanga by Dr Rob Nel. Jabu Coffee is an unpretentious craft coffee that brings happiness – as its name suggests – to all coffee lovers. Expect delicious dark chocolate notes, deep berry and citrus flavours, and when paired with milk a creamy caramel sweetness in the cup.
Routed Roasters - J Bay
Routed started as a heart and brain child of coffee lovers Wayne Vermeulen, Fred Euvrard and Maxine Thiart in 2015. Based in Jbay the Fireworks began in the laundry room of Fred's garage with a small 2kg roaster. Now the team has grown to include Ansophi and Heinrich, the two head roasters, with First Light Coffee as home soil This well balanced Honduras, favours the pallet that enjoys a bold lingering flavour, with a distinct honeycomb aroma. It travels smoothly with every sip asserting its nutty quality to remind you of it's origin, leaving you with a memorable sweet orange surprise.
Blue Door - Simonstown
This delicious Guatamala and El Salvador blend has an extremely loyal following in the general Cape Peninsula area. Head Roaster Rob, develops this coffee to a nice medium roast which combines a wonderful peanut butter flavour from the El salvador with the dark chocolate of the Guatamala, resulting in a smooth, easy drinking coffee - enjoyed with or without milk and through a variety of brew methods. Rob supplies the best café's in Simonstown and Kommetjie and with this blend, and If you don't believe us, pop in at Southern Grind in Kommetjie and see for yourself.